I finally got around to making my new wreath for my door... and taking down the Christmas one!
I've been planning this for awhile, but finally was able to get it all finished.
I had seen tons of great wreaths that I had liked and wanted to make. And then decided to get the supplies for
this beauty
that I found at
The Idea Room
.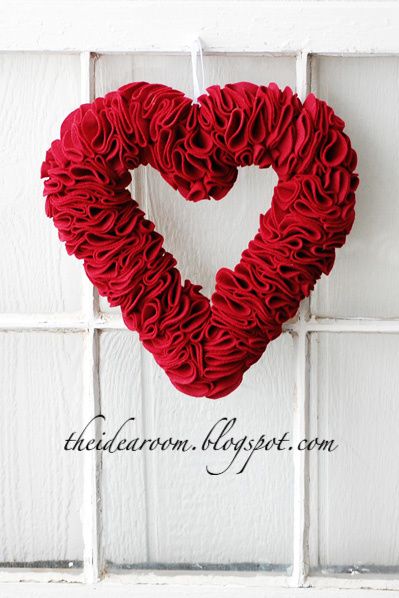 I made a trip to Hobby Lobby on a lunch break and wasn't too wild about the size of the heart shaped wreath forms that they had. I wanted a bigger one. So I settled on a round wreath form instead. I started cutting my felt circles, and then stopped there. Why? Well, I still wanted the heart shaped wreath. No one else in town had any forms so I abandoned the idea and started looking for new ideas.
My friend Desiree over at
Chic Inspirations
had decided to make the heart wreath with a little different twist to use on the doors at the church for her wedding...
they turned out really cute
.
I came across
one like this
. This isn't the original site I found the idea on... but I can't locate it anymore right now - same concept though. When I saw the yarn wrapped wreath I thought that I might be able to make it neutral, and then just be able to change out the embellishments for different seasons/holidays. Always a good thing when you are short on storage space, right?
So, I had some neutral yarn and wrapped it around my styrofoam wreath form. There were some odd spots where it didn't wrap just right, so I figured I'd use those spots as a place to wrap my ribbon door hanger, and the place to add my embellishments.
I found a pick of glittered hearts at Hobby Lobby that I thought would be perfect! So, I just gut them off the pick with wire cutters, and used my new toy to glue them to the wreath. :)
My new toy is this awesome bad boy right here...
it's a
Dremel Hot Glue Gun
and has interchangeable tips for more precise gluing (without all the excess glue everywhere that just isn't pretty). It's got different temperature settings and a neat little stand built in. Yep, pretty awesome.
Oh, and you can see my Silhouette in the background that I dug out of storage from the garage. I've had it about 2 years now, but haven't really done much with it. I've seen tons of awesome projects lately using it, so I dug it back out and will be playing with it soon... so check back to see what I do!